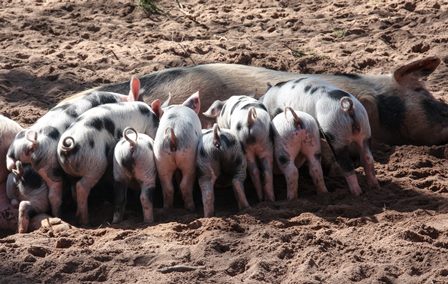 Predictive Arts practitioners start gearing up for the New Year around this time— or much beforehand if they do annual updates, such as myself. I have already been immersed in 2019 Feng Shui updates and Nine Star Ki updates for several months now, to the point where I have to remind myself that we are not there yet.
The Feng Shui and Nine Star Ki calendars adhered to a solar cycle, not a lunar cycle, which is commonly assumed because the Chinese lunar calendar gets all the media attention each year. The Solar calendar begins around February 4th or 5th each year and for 2019, the beginning of the solar and lunar calendars are just one day apart. Some years, they vary by several weeks.
2019 will be the year of the Pig and it is also the last zodiac sign within a 12 year cycle which starts over again with the Rat, which will be in 2020. So, at the end of a 12-year cycle, people react differently. Some people will feel like relaxing, partying and others may just poop out. And some will be more reflective, as another chapter comes to a close, and prepare for a new cycle to begin.
As with any Chinese zodiac sign of the Year, it is going to be a good year for SOME people. But in the most basic way, the Pig Year people may be more challenged. It is their year to deal with things and not hide under a rock. Those born (after February 4th) in the Pig Year include 1935, 1947, 1959, 1971, 1983, 1995, 2007.
Additionally, the sign which opposes the Pig is the Snake. Snake people may also be challenged in the Pig year. Snake people include those born (after February 4th) in 1941, 1953, 1965, 1977, 1989, and 2001.
With Feng Shui, we look to the Pig and Snake directions of N/NW and S/SE as being precarious areas for remodeling or landscaping and I give my clients this information as it relates to their own house or neighboring properties.
And now that I have already done a couple hundred 2019 Feng Shui update reports so far, a question or reaction which I can anticipate is: What's up with all the metal? Every house needs metal in certain areas and some more than others. But I have also found that there are a couple of areas which usually do NOT need metal, but will in fact need it in 2019 because of the position of certain yearly stars. Metal happens!
I also now see an overlay between Feng Shui and Nine Star Ki predictions. With 2018, it was a 9 Fire year and that is often associated with literal fires, where the West coast of the United States and many other parts of the world had record-setting fire disasters. Additionally, the 9 Fire year can symbolize bombs or explosives. Just recently, we had a Bomb Hoaxer in the United States, sending fake bomb packages to about a dozen high ranking politicians. Well, 2019 will be an 8 Soil Year. What pray tell can that allude to?
The 8 star in Nine Star Ki can be symbolic of rebellion, rioting, radical changes in world view or lifestyle, migration, eminent domain, and all things related to the land and the Earth. By this I mean natural events like earthquakes, volcanic eruptions, drought, or environmental accidents which pollute the earth. According to the monthly charts for 2019, the months of February, May, August and November appear particularly intense when it comes to "earth" events.
Now, the philosophy behind Nine Star Ki posits that certain energies repeat every nine years, much like Feng Shui nine year cycles. If we look back on what happened nine years ago, for 2010, some of the noteworthy events, "8" star related include:
• February 27th in Chile an 8.8 earthquake
• April 14th in Iceland, a volcanic eruption
• April 20th Deepwater Horizon drilling rig explodes (when the monthly trend paired 8 earth with the 9 fire for explosions)
• September 4th (still part of the August cycle) 7.1 earthquake in New Zealand
• November 19th New Zealand mining disaster (under the earth)
• December 11th bomb attack in a Sweden shopping center when the 7 star was activated (7 star can relate to shopping centers, markets or ships, was paired with a 9 star for explosions)
• December 22 Obama Administration repeals the Don't Ask/Don't tell Military policy. The monthly luo shu grid for that month had an interesting alignment of the 6 star (symbolic of military and the law) with the 1, 3, and 8 stars. This is all "male" energy and the 1 star in particular has sexual connotations.
The list above is just a few of the happenings in 2010 and we can see the influence of the 8 Soil Star. For 2019, there will undoubtedly be some similar type events.
Author: Kartar Diamond
Company: Feng Shui Solutions ®
From the Philosophical and Metaphysical Musings Blog Series