Yin House Consulting
One service Kartar performs which is not commonly known about by westerners is called a "Yin House" reading and it is the divination of a grave site.
Yin House employs some of the same skill set as would be required to assess any environment for the living, but there are some very important differences in what is good for a grave site versus a house for the living. The impact of the grave trickles down to several generations of descendants and sometimes the Yin House answers questions not revealed by the "Yang" House (where someone is living).
In fact, the impact of the Yin House can be swift, such as with the fate or circumstances of a person changing dramatically after a parent or grandparent passes. This could be something obvious like a life-changing inheritance, but it could just as well be something not obviously related unless one knows how to determine if there is a connection. As well, there could be influences from the grave which take years to manifest in the lives of the descendants.
Evaluating an existing grave site or a plot one plans to purchase can be done locally or long distance. The long distance evaluation requires that Kartar receive photos of the cemetery and plot location. She may also need to coach a client in how to take a compass reading of the space in question, unless she is able to really zoom in close from Google Earth, which is often possible.
Following is an aerial view of a pond near the entrance of Holy Cross Cemetery in Culver City, California. You can see the nearby rows of graves and their markers clearly. It is possible to zoom in even closer for a very accurate compass reading.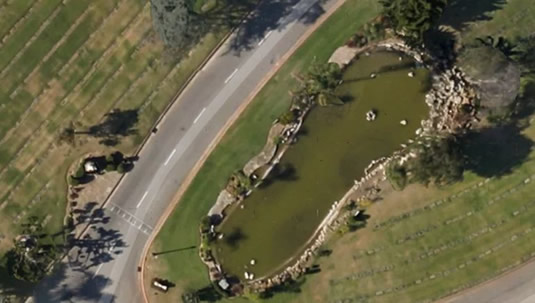 Utilizing the knowledge behind Yin House readings will become more in demand as time goes by and as Feng Shui in general becomes more main stream.